Recently, while poking around searching for chainsaw parts vendors, we discovered this chainsaw bag for carrying saws with their bar and chain still attached. We've always sold plastic hard-case chainsaw carrying cases in store and online, and it seemed a logical way to carry a saw mostly because of the sharpness of the teeth on the chain. However, we think these softer chainsaw bags are quite handy and valuable.
Toting a chainsaw around in a hard case is a bit cumbersome, and when empty, you need to store that plastic carrying case somewhere that it won't "walk away", if you know what I mean. A chainsaw duffle bag, on the other hand, is easier to conceal. Not only is storage of the empty tote bag much easier than a hard case, but it's lighter to lug around the field. It's just easier to carry a saw in one of these.
We find these handy chainsaw bags, as pictured below, to be very convenient, waterproof, unbranded, easy to store, and not expensive. Dark enough to not get covered in dirt on the first day. Available in all black and in red.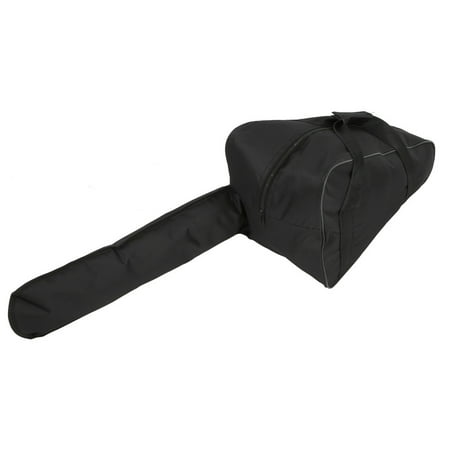 Unbranded Chainsaw Bag
Unbranded is good, because it won't matter if your saw is a Husqvarna, Stihl, Echo, Shindaiwa, McCulloch, Craftsman, Ryobi, Dewalt or whatever. It really doesn't matter. This is just a plain good way to carry a chainsaw. Heck, you're probably already wearing a hat with that name brand on it right now, so you're already representing. Haha!
Another reason why using a no name tote to carry your saw is good idea, is that it's less noticeable, so less likely to get pilfered. Consider one of these chainsaw bags to be part of your security strategy.
Waterproof Chainsaw Bag - Solid Chainsaw Storage For Home Chainsaw users or Lumberjacks
If only there was a chainsaw bag that would be made of tough enough material to carry a saw with the bar and chain on, instead of the dumb plastic boxes. Oh wait! There is one! You're lookin' at it (above).
Made of heavy duty oxford cloth, a tote bag like this should withstand the test of the work for which it's intended. Suitable for homeowner saws and for pro arborists and tree services to use while felling trees on job sites.
Lug your saw around without the angry plastic case bangin' into the side of your leg all the time, toss it into the open bed of your truck in exposed weather, unzip it and pull that pride and joy out for work. EASY!
100% brand new and high quality.
Made of heavy duty oxford cloth, durable, wear-resistant and waterproof.
Portable design, you can carry it anywhere by hand.
Long zipper design makes it is easy to store and take out your chainsaw.
Great storage bag to protect chainsaws from dirt and dust and avoid being accidentally scratched.
I think you'll love this tote bag for chainsaws. We do.
TL;DR Why do we love the duffle bag for saws idea? They're waterproof, light, easy to carry, stealthy, cooler than a box, inexpensive.
Full Disclosure: We'll get a little wee commision if you buy one, but that's not why we're sending you over there to buy one... they're just cool.